#criticism
Chapters and interviews tagged with '#criticism'
Related Book Chapters & Interviews
Chapter 45
Roll with criticism
It's hard when someone criticizes the work you've poured yourself into, but you mustn't take it personally. And you definitely can't let it slow you down. Use it as inspiration or fuel for improvement, but remember that one voice is still just one voice.
Chapter 44
Handle feedback with care
Feedback will either be plentiful or non-existent, but once it's plentiful, don't ever take it for granted. Maintain a conversation with customers and always dig deeper. Be thankful they took the time to share, and be honest about how you plan to act–or not act–on their feedback.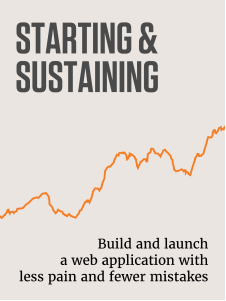 Be Fully-prepared to Launch Your Own SaaS Application
Get a free playbook, worksheet, and short email course to help you navigate the journey so you can be ready to build your own SaaS application.