#cofounders
Chapters and interviews tagged with '#cofounders'
Related Book Chapters & Interviews
Chapter 5
Get money
It's handy to have some money set aside to get your application off the ground, but you may need less than you think. More importantly, you may have a lot more options for gathering that money. Make sure you understand the pros and cons of whichever path you choose.
Chapter 10
Assemble a team with care
Of all the activities that can destroy a business before it starts, how you assemble the team is one of the most difficult parts. Don't choose partners and cofounders haphazardly. Take your time.
Interview № 5 of 24
Tyler Rooney
Format had seven people on the payroll before Tyler even got paid. We talk about bootstrapping in Canada, the amazing story of how they acquired the Format.com domain name, and what it's like transitioning from a survival mentality to a growth mentality as a business grows.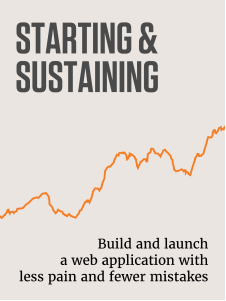 Be Fully-prepared to Launch Your Own SaaS Application
Get a free playbook, worksheet, and short email course to help you navigate the journey so you can be ready to build your own SaaS application.