After five years running Sifter as a sole founder and regularly receiving questions about various aspects of running the business, it felt worth writing down what I had learned and wished I had know when starting out.
Ultimately, the concept of the book revolved around the idea of writing to "Garrett of 2008" prior to creating Sifter. Having made more than my fair share of painful mistakes, it seemed like those lessons could help some other folks avoid similar mistakes.
First Edition
I released the first edition (Figure 1) of the book in 2013. It was my first experience writing a book—let alone writing, typesetting, producing, and selling. I originally sold it purely as a PDF produced directly using LaTeX. The end result was incredibly satisfying, but LaTeX bogged down the production process.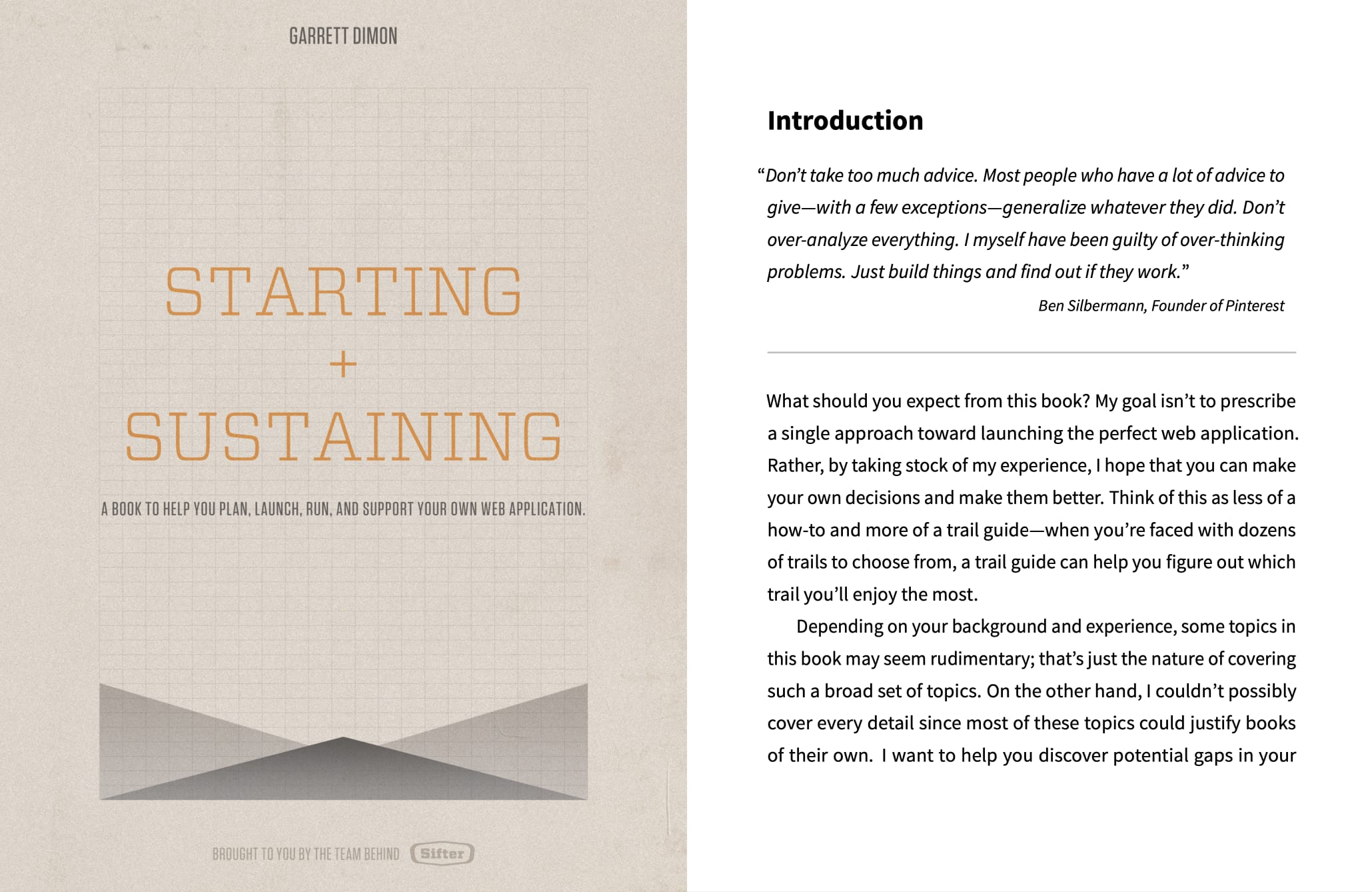 The first edition also included a spreadsheet and basic checklist that both complimented the book and were designed to serve as reminders and maps for executing on the guidance expressed in the book. While the PDF and associated resources got the job done, a part of me always felt like the process was incomplete by not creating and offering the book in more formats.
Second Edition
After going through due diligence twice when selling Sifter in 2016, I gained some additional perspective from two different buyers with different plans evaluating the business.
It was eye-opening to go through a "code review" at a business level, and I saw some gaps in the book that justified updates to some of the existing chapters as well as some new topics that could use their own chapters. And so began the effort to create the second edition (Figure 1) which turned out to be far more than a minor update.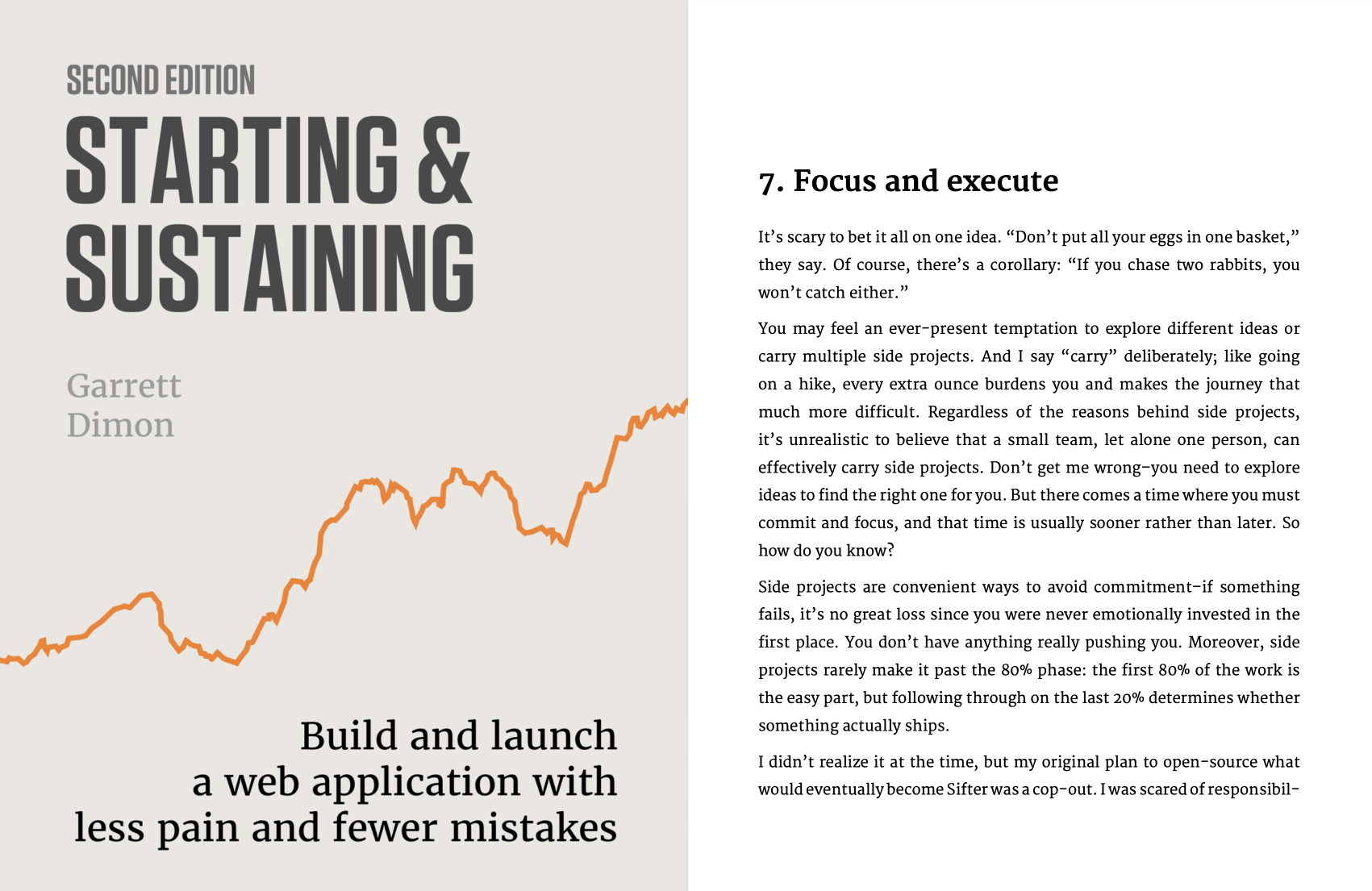 In 2017 after deciding to move forward with an update to the book, I knew that I wanted to ensure the content was more widely accessible. Selling Sifter had provided a modest cushion, and I had a great full-time role with Wildbit. So the second edition effort took shape as more of a series of learning opportunities and exploration of a more complete book production process.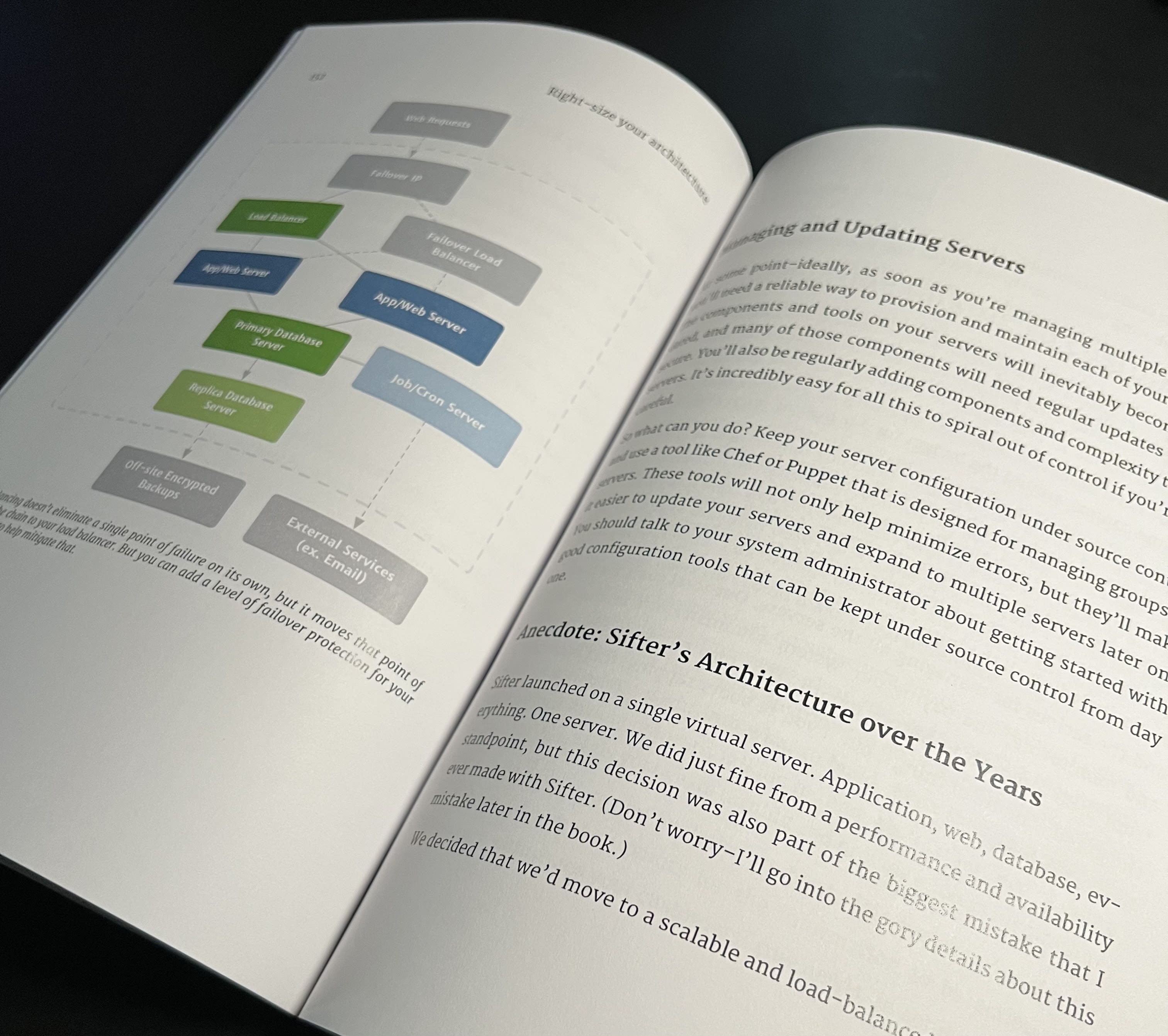 Based on my experience with the first edition, I knew that writing LaTeX directly wasn't the best option to seamlessly support exporting the book for a wide range of options. I also knew that with some of the other ideas I wanted to explore, it wasn't pragmatic to typeset every page personally. Instead, I wrote the book using Markdown so it could be more easily translated to any format.
In the interest of further accessibility to the widest audience, I also chose to publish the book online for free. In addition to digital, I also wanted to create a physical version as well to learn a little more about print design and production. (Figure 3) And finally, I decided to record and produce an audiobook version.
Despite not having any experience with audio production but loving audiobooks, I felt like audiobooks worked best when the author narrated. So I decided to record and produce the audio myself to further familiarize myself with audio production. While the tediousness of the audio production process destroyed any desire I ever had to record and edit an audiobook again, it was a worthwhile challenge nonetheless.
You can read Starting & Sustaining online for free or buy a copy through my store, Amazon, Audible, iTunes, or iBooks.