I have a reading nook (Figure 1) in my office where I start every morning while drinking coffee. For years, I'd start the day with coffee and reading—until a few months ago. I didn't see it at first, but my morning ritual had devolved into checking news and mindless browsing on my phone.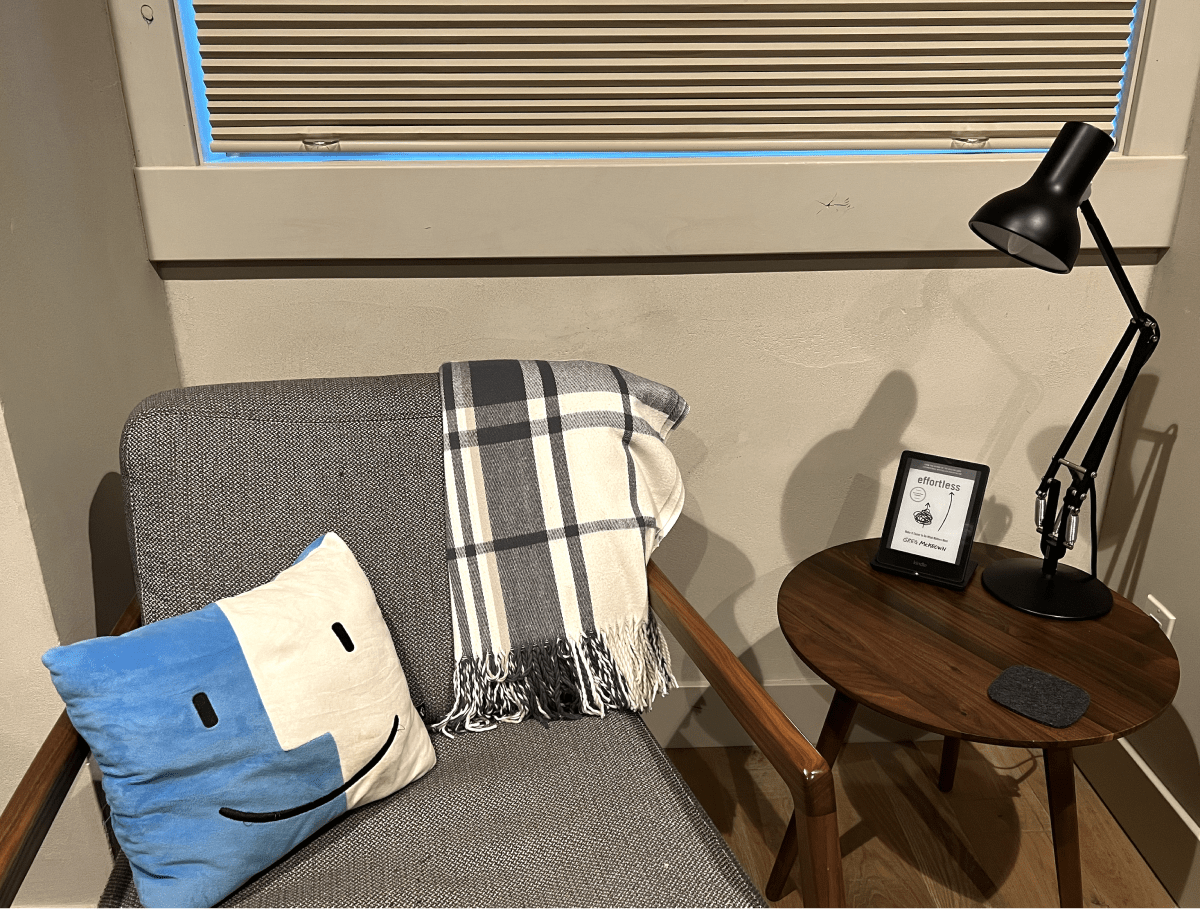 I hated it. I tried to make changes to steer me back into my reading habit, but they didn't take. I bought a proper bookmark to add some tactile reinforcement to encourage the habit. I kept a highlighter on the table to make reading less passive and more active. I put my phone in the closet.
But nothing changed.
I started giving it more more thought, and I realized that in my attempt to pivot away from devices (and Amazon) towards physical books had unintentionally introduced two seemingly trivial changes into my routine.
First, the physical books introduced just enough friction at a time early in the morning when I was barely awake that it deterred me from picking up the book. Physical books need both hands, and being half-asleep with coffee in one hand didn't work for me.
Second, regardless of my mood, the same book was there every morning. If it was non-fiction, I wasn't eager to even think about reading it unless I was in a non-fiction mindset and vice versa. So half the time, I just didn't read.
Silly, right? But easy enough to correct.
I started keeping multiple books on the table so I'd have choices. But then it got crowded.
So I moved the pile of books to a nearby shelf that was just out of reach. But then, the books were just out of reach once I sat down.
Little by little, my reading habit broke down, and despite recognizing it and actively trying to fix it, nothing changed.
I thought maybe it was time to bring my Kindle back into the fold, but it had become my last device with a micro-USB port for charging. And as petty as it feels, my disdain for that infernal charging standard and the inevitable clumsy fumbling to attempt to plug it in, flip it, fail, flip it again, and eventually get it right meant I didn't charge it regularly.
So too frequently the Kindle would be dead and break my habit right as it was solidifying.
I've never felt so defeated by something so seemingly trivial. Was I really that lazy in the mornings? Did I not like reading enough?
Then I learned there was a Kindle with a wireless charging stand, and it was on sale. Everything else had failed. I assumed this would too. It felt like the silliest possible solution, and I beat myself up for believing it was even worth a shot.
"Really, Garrett? You think buying another device is the answer?"
But it fucking worked. It worked.
Now, the Kindle greets me every morning with a book cover staring back at me as soon as I walk into the office. It's always charged. It always has a book to match the day's mindset or mood. And it's never been physically easier to pick it up and start reading with one hand since there's always a coffee in the other hand.
It's literally become more of a struggle to stop reading.
The gravity pulls me in to read more frequently than ever. It didn't just help rebuild a habit—it reversed the trend completely. I'm reading more than I have in years. Part of me still hates that it worked, but it did. I'm back to reading regularly again, and that's a win.
Sometimes it's better to accept that we're not always rational and just do the thing that gets us on the right track.